Short-term mission trips with Believer's Bridge can be done through out the year. The trips will be to the surrounding areas of the mouth of the Amazon River in Belem, Brazil.  Dates are not yet set.
Contact us if you are interested in joining!
If you are going with one of the teams, you will receive our Short-term Mission Trip Handbook, for Brazil.  Our desire is to also have digital copies available.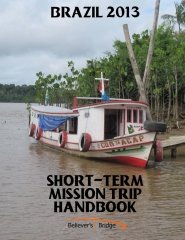 This book will answer most of the questions you have about your trip to the Amazon River in Brazil. It covers sections for each segment of your journey; pre-trip preparation, travel and arrival, in-country and returning home.
We look forward to seeing you in Brazil!